We know graduation ceremonies are looking a little bit different this year, but they can still be special. So we've created a Virtual Graduation How-To Guide with technical and non-technical tips to help students, faculty, and family around the world carry out their graduation celebrations in a memorable way.
Here are a few thoughts on executing your graduation over Zoom and celebrating the Class of 2020 during this unprecedented time.
Use the webinar platform
To ensure the celebration goes as smoothly as possible, we recommend using Zoom Video Webinars to manage the audience experience and control who is seen and heard during the event. Hosts can easily elevate a principal, dean, school president, valedictorian/salutatorian, guest speakers, and even each student as their name is read as panelists for their parts. You can also collect registration of graduates and guests who will be attending, and livestream to Facebook Live and YouTube so family and friends can be part of the celebration.
Example graduation program using Zoom Webinar:
Processional music: Host computer shares computer sound with music playing
Invocation: (Panelist)
Salutatorian speech: (Panelist)
Valedictorian speech: (Panelist)
Presentation of Graduates/ Diplomas: Screen share slide show from host computer
Acceptance of Class: School admin (Panelist)
Keynote speaker: (Panelist)
Benediction: (panelist)
Recessional: Host computer shares computer sound with music playing
Highlight each graduate
Create a slide for each graduate for the presentation of the class and diplomas. Include the graduate's name, photo, accomplishments, college they'll be attending (for high schoolers), and other info and show the slide as the student's name is read so family and friends can enjoy the highlight.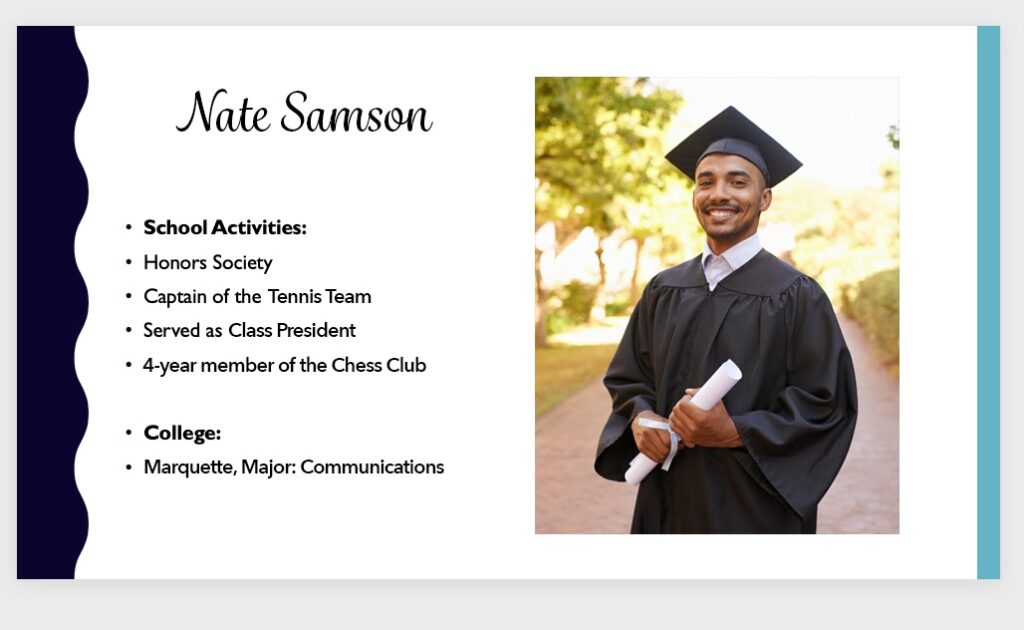 Add the special digital touches
Prior to the event, ask the graduates to send videos, photos, or GIFs to share during the ceremony and create an unforgettable send-off. Some fun ideas include:
Virtual backgrounds with your school logo
A 10-second video recounting a favorite memory from their time in school
A GIF of students moving their tassel or throwing their cap in the air
Think outside the celebration
Create a graduation event landing page with streaming information, and add links to download customizable backgrounds, photo frames, and specialized graphics to share. And be sure to share a #Graduation hashtag for students to capture the celebration on social media.
Access our guide for more tips on hosting your Zoom graduation:
For more ideas on how to host a memorable event using Zoom Video Webinars, visit our support page or register for a Zoom webinar training.